28 Nov

Winemaker with Yakima ties talks about state's emergence as first-class wine region

By Mai Hoang


Chris Peterson is winemaker and partner at Avennia, a winery in Woodinville. Peterson, 46, was part of the first graduating class from Walla Walla Community College's two-year enology and viticulture program. He spent about eight years at DeLille Cellars, also in Woodinville, before starting Avennia with business partner Marty Taucher in 2010.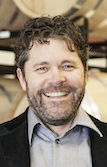 Peterson, a West Valley High School graduate, returned to Yakima earlier this month for a wine tasting at Stems, a downtown Yakima wine shop. During a brief interview, Peterson talked about how he became interested in wine, Washington state's emergence as a first-class winemaking region and one southern state where his winery is gaining customers.
How he got interested in wine
During my last quarter at the University of Washington, I studied in France. I saw wine was part of a lifestyle that we just didn't have in Yakima and not a lot of areas of the country. People had a glass of wine with lunch. There was an aisle full of Bordeaux wine at the grocery store. The wines were not super expensive, but made to be enjoyed with a meal and every day.
That got me into wine. I knew we had wineries in Washington. I wanted to learn more. I started to learn more about the leading wineries in Washington, such as DeLille Cellars and Cayuse Winery in Walla Walla. These wineries were doing amazing world-class wines. That's when it got really interesting to me.
On Avennia and its relationship with Yakima Valley vineyards
When I'm in Yakima, the first stop is Red Willow Vineyard. The grapes were planted in the early 1970s, and it is truly one of the great vineyards in Washington. We get 30-year old Cabernet and Merlot grapes from there. Boushey Vineyard, near Grandview, is owned by Dick Boushey, another legendary grower for more than 35 years. And in Sunnyside, we get a little Grenache from Upland Vineyards. It's some of the best Grenache I've had.
Avennia's built on that French inspiration; it's leaning toward that Old World style. The Yakima Valley fruit really lends itself to that. You have a lot of balance, you have a lot of complexity and you have a lot of elegance.
On the style of the state's wine industry
There are advances in winemaking techniques. People are trying some new things. With grapes, it seems we're still exploring, especially with Spanish varietals, such as Tempranillo and Malbec. We're still young in the scheme of things. We're trying to match different vineyards to the right grapes. You're not just planting Grenache. You're planting seven to 10 clones of Grenache to find the right one. Winemakers are still learning what Washington wine grapes can do best.
On awareness of Washington wines outside the Northwest
We're still trying to get more well-known around the state, even around the cities of Seattle and Yakima. It's a big job to overcome the head start France and California have. I feel we're doing it. Washington is gaining momentum, and people are starting to see what's great about this area.
Now Washington wine is featured in Wine Spectator every year. There's a Washington wine report in Wine Advocate. There's enough critical mass and interest that certain local magazines are featuring Washington wines, such as SIP Northwest, Seattle Magazine and Seattle Met. Through Chateau Ste. Michelle, you can go anywhere in the country and spend $10 to $12 and get a great bottle of Washington wine.
We do make really good wines at those good prices. That's going to be 90 percent of people's first introduction to Washington wine around the country, around the world. We hope that someday, they'll find our wine and want to say, "We know Washington can make good wine; what can I get with a little more money?"
On success outside Washington, including in North Carolina
We're in about 15 states. I try to hit our main markets about once a year and a couple of them twice a year.
In some places across the country, restaurants would struggle to fill a winemaker dinner from an obscure winery from an obscure state. I did two in a row in North Carolina last year, one in Durham and one in Charlotte. We sold out both of them. Attendees were engaged. They wanted to hear the winery's story. They were really curious and had intelligent questions. There's a thirst for wine knowledge.